General information
The municipality of Jacarilla occupies an area of 12.36 square kilometers in the Vega Baja del Segura region, south of the province of Alicante (Spain).
Located on the right bank of the Segura River, with more than 2,800 hours of sunshine per year and 15 minutes from the Mediterranean coast.
Privileged enclave, steeped in history, welcoming people and a quiet life.
It has 1,947 inhabitants (Source INE 2,015) distributed between the urban area and the core of Vistabella.
In the south of the municipality of Jacarilla, next to the road that connects Orihuela and Torrevieja, the nucleus of Vistabella is located. It is the most picturesque place in the area, elevated on a hill, from where you can see beautiful views of pine trees and orchards with the bottom of the Mediterranean Sea on the horizon. This quiet and sunny place has been chosen by many families from nearby towns, as a second residence and has a large colony of foreigners who have found here the good weather and the peace they need to get away from the madding crowd.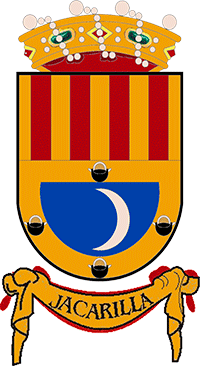 Jacarilla. The Vega Baja garden
How to get
Jacarilla borders the municipalities of Orihuela, Bigastro and Benejúzar.
The town is located on the CV-920 highway that connects Orihuela with Rojales and Guardamar del Segura, very close to the south of the Segura river, which crosses the term through its northern zone. Jacarilla can be accessed very easily by the CV-95 road, which connects Orihuela with Torrevieja and Pilar de la Horadada, through Bigastro.
Jacarilla. Alicante town by town
Jacarilla is a small town that houses the Palace-House of the Marqués de Fontalba, built between 1916 and 1922. This palace house is the last stately construction in the region.